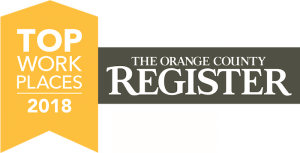 ANAHEIM, Calif., December 27, 2018 – ​​​Reborn Cabinets' – 35 years in business would not be recognized as one of The Top Places to Work for 2018 without our nearly 500 team members," says Vince Nardo, the President of Reborn Cabinets. That's over three decades of twists, turns, distinct accomplishments, and unavoidable failures. But without persistence, dedication and learning from the past, Reborn would not be nationally recognized as one of The 2018 Top Places to Work.
This year, the Orange County Register recognized 140 companies and organizations in Orange County as Top Workplaces for 2018. The Orange County Register believes that creating a top workplace is about more than offering great benefits and vacation time. It's about organizational health. Employees want to align with the company's vision, be challenged by a high-performance culture and feel they're valued and their voices are heard. These companies have been recognized based solely on surveys by their employees.
Our team members say we are an innovative, friendly, and creative place to work, treating everyone like family. The founder, Vinny Nardo's motto is "Join the Reborn Cabinets Family."
When asking our team members why they voted for Reborn Cabinets to be recognized as one of the Top Places to Work, here's what they said:
"Coming to work at Reborn Cabinets every day puts a smile on my face when I walk in the door. I've never worked at a company where the work environment was so positive, people were so friendly and everyone is treated like family." – Jessica (HR Manager)
"Here at Reborn Cabinets, you are allowed to be an innovative, creative thinker and your opinion matters. I believe the opportunities are endless; you can grow and learn as much as you want." – Paige (Social Media Marketer)
"One of the best parts of working at Reborn Cabinets is that you're trusted. Managers don't micromanage, you have the freedom to be creative, and the Leadership Team encourages you to think outside the box." – Olivia (Trainer of Reborn Cabinets)
"Everybody in the company makes you feel welcome and greets you with open arms. This company makes you feel valued and creates a working family environment for all. The company is growing at a fast pace and everyone is positive. The work culture is amazing, and I'm glad to be a part of the Reborn family!" ​– Anonymous
"Being part of Team Reborn encourages me to be my best self every day. I'm challenged with demanding expectations, but the reward at the end is why I love being a part of this winning team." ​– Raul (Head of Talent)
At Reborn Cabinets, we've created a family work environment because we're a family-owned company started in 1983 by Vinny and Brenda Nardo. Now their sons, Vince Nardo, President, and Anthony Nardo, CFO lead the company.